My Top 12 Food Hacks for Easy Clean-Eating
As many of you know by now, I like to keep it pretty simple in the kitchen. I love to cook, and find it to be quite a meditative process. That said, more often than not, my cooking is me throwing a few things into a pot while stopping multiple times between throws to referee my children. It's simply not realistic, in my life right now, to spend a lot of time on each meal. For that reason, I have developed some tried and true kitchen hacks that have helped me in our clean-eating lifestyle, and I thought maybe they could help others going through something similar. And just to make it clear, these are by no means genius, just simple strategies that work for me!
---
My Top 12 Food Hacks for Easy Clean-Eating
Do not peel carrots. Sounds so simple, but how many of you peel carrots overtime you eat them? I'm giving you permission to stop. Not only will this trick make your life easier and save you time, but you'll actually be getting more nutrients by keeping the peeling on. Make sure you buy organic, preferably local, and wash well before eating. And ps. the same goes for beets, parsnips, and potatoes.
Bake bacon, don't fry. I learned this one the hard way. Everytime I fried bacon I somehow splattered myself and my kitchen with bacon grease, and if you've ever tried to get bacon grease out of Lululemon, you'd know its not easy. Not to mention I could never get the temperature just right. I think because of my lack of patience, or the incessant distractions from my little minions. Either way, I finally discovered (thanks to Rachael Ray) the magic and ease of baking bacon in the oven. No more burnt bacon. No more ruined Lululemon. Just a tip: make sure you use a rimmed baking sheet for placing the bacon on. Otherwise the grease might drip, causing an insane amount of smoke, multiple smoke alarms to go off, and neighbors pouring out of houses to make sure everything okay. Not that I'd know anything about that.
Save bacon grease for use as a cooking oil. Once you've baked that beautiful bacon, pour the remaining bacon grease into a glass jar to store in the freezer. Use this bacon fat for cooking meat, eggs, veggies, anything you want! This will save a ton of money on cooking oils.
Freeze ginger before you grate it. We use ginger a lot in our meals, so this one has been a life-saver for me. You can peel the ginger before freezing it to make the process a little easier.
Freeze nut/seed and coconut flours to prolong shelf life.
Double, triple, quadruple recipes. This way you'll have food for days, and/or freezer meals for when life gets too crazy to cook!
Buy veggies in bulk. May sound weird, but this is actually helpful. Most people only buy 1-2 bunches of kale or 1-2 onions on a grocery store trip, and then wonder why they're not eating enough veggies. Veggies are vital, and they need to be accessible – otherwise going for the bag of chips is an easier choice. We buy at least a dozen bunches of kale each time we shop, and often 30 pounds or so of sweet potatoes. If you don't get around to eating the greens before they go bad, you can always throw them in smoothies or soups, or even freeze them for later use. Sweet potatoes, and many root veggies, will last a few weeks in the fridge, and again can be frozen if you can't eat them all before they go bad. The point is to have A LOT of veggies in your house, at all times.
Use a plastic knife to cut brownies. This will keep the cuts clean, if you care about things like that.
Before slicing an onion, store in fridge. When slicing, avoid cutting into the root. These two hacks will help keep your eyes from tearing and stinging when slicing!
Keep an avocado fresh with ACV. When you have a half of an avocado, keep it from turning brown by adding a drizzle of apple cider vinegar to the cut side.
Chop up chocolate bars to use as chocolate chips. When I don't have chocolate chips, or when looking for a healthier option, I grab one of my Eating Evolved chocolate bars and chop it into pieces instead!
Make popsicles from leftover smoothies. Is a blender-full a little too much for you to drink? Try freezing the rest into popsicle molds to snack on later!
Hopefully these Top 12 Food Hacks for Easy Clean-Eating are helpful to some of you. What hacks do you rely on?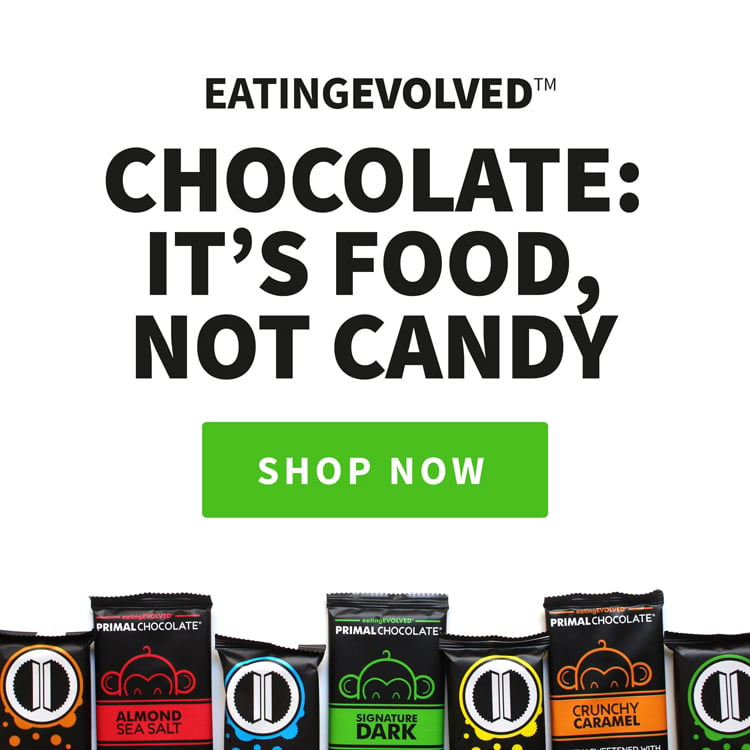 Affiliate Notice
This website may, from time to time, endorse various products and/or services that we believe will benefit you in your quest for improving your life and health. It may be true that this website and its owner will receive compensation for these endorsements should you choose to purchase said products or services. In fact, in such cases, you should assume that we are an affiliate and will be compensated. Having said that, this website and its owner will only endorse products and/or services in which we strongly believe, or which we have used ourselves. By using this website, you hereby consent to the disclaimer and agree to all terms, policies, and conditions.